Background and Experience:

I have over forty years of involvement with the horse market which includes:

Owner of World Champion Stallion: Double Shot Of Cool and several other World andd Reserve World Champions throughout the years.

During the past 40 years I have bred, purchased, boarded, or sold several horses including Quarter Horses, Paints, Appaloosa, Thoroughbred, Arabian and Pinto horses.

Several horses under my care, direction and guidance have shown successfully at Futurities, AQHA, APHA and NRHA shows including The All American Quarter Horse Congress, All American Quarter Horse Classic and Louisville Kentucky's Ranch Horse Classic.

Courses Attended:

Stallion Breeding Management, Cooled Shipped Semen, Equine Reproduction and Nutrition Program presented by Ohio State University.

HYPP Management & Treatment at Edgewood Lanning Inc.

"Principles of Valuation". Presented by the American Society of Equine Appraisers.

THIS WAS NOT A INTERNET COURSE that you do from home!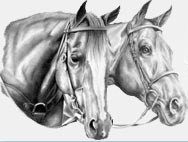 Varner Equine Appraisals

Donna M. Varner

Certified Equine Appraiser since May 5, 2002

ASEA Appraiser #03519

Phone: (724) 825-0124